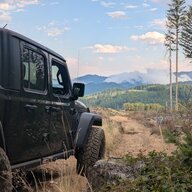 First Name

Aaron
Joined

Nov 29, 2019
Messages
Reaction score

251
Location
Vehicle(s)

Jeep Gladiator Sport S
Occupation

LAV Turret Technician
Alright everyone,
This is my first jeep and by extension first jeep build. We have our starting reference point here:
And here's the plans in theoretically chronological order:
1.5" Teraflex front leveling kit - Installed
Front air dams trimmed - Completed
35x12.5r17 Yokohama X-ATs - Installed
TPMS sensors - Installed
Quadratec Hard Rock 17" wheels - Installed
Funny window graphic - Installed
3.5" JKS JSpec lift with HD springs, and quicker disconnects - Installed
Replace factory sub with something better - I'll need to tear everything open and see just how much space is available, I'd love to cram an Infinity Kappa 1200w back there but I don't know if there's enough space.
Rugged Ridge Arcus stubby front bumper - Planned™
Autodesk designing, simulating, prototyping, and installing winch plate reinforcements for Arcus front bumper - Planned™
Sherpa Steed 17000# synthetic winch - Planned™
Rock Sliders - Installed
Bed rock sliders - On the Idea Board, open to suggestions
Full Regear and true locker Install - On the drawing board, will need to be done eventually for any super serious offroad fun, probably going to wait for a reenlistment bonus for this one. Also air or electric? I work on both electrical and pneumatic systems in my job so neither is a must but my personal preference is electric.
Bedliner - Planned™, not essential - back burner
Cargo rack - Eventually
Roof top tent for cargo rack - Eventually
Everything above this point will probably get done in the lifetime of this jeep, no promises on how quickly or often updates will come but they will come I promise.
Also just to nip it in the bud now: why do I want a 17000# winch? Because 99% of my recovery experience is with a 15000# winch and 30000# winch. While I'm recovering vehicles about 6x as heavy with those two, I just think it'll be nice to have the same capability I'm used to. Also Fite me.
Everything below this point is hypothetical and should not be considered a reasonable expectation to actually happen, but dreams are fun to have right?
Figure out how to slap a Cat C7.1 in there - Why? [email protected]&% you that's why ;D
Definitely gonna need a bigger lift, with much stronger springs to offset the weight of a C7 tbh
Dyna prorock 80s - needed for the next ridiculous plan
Michelin 325x85R16 XML - Ever see a tire with 14 pieces of beef jerky in the sidewall chalk up 1000km offroad driving without losing any air pressure? I have.
Some kinda 16" rims to fit the above
Yeah so that's everything on my mind right now. Like I said, I'll update as time goes on, new plans come to fruition or old plans get amended.
What I'm planning to use it for is to have fun in places offroad, the parks, trails and whatnot, but I'd like to start getting into some overlanding as well. Some of the stuff I've seen in Trail Recon's videos seems to be just my cup of tea tbh.
Feel free to leave feedback, or hate on it and call me an idiot, won't hurt my feelings.
Let me know what y'all think!
Last edited: