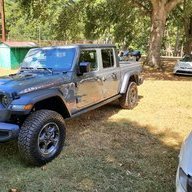 First Name

Haruyoshi
Joined

Mar 22, 2019
Messages
Reaction score

236
Location
Vehicle(s)

2020 Gladiator Rubicon Sting grey M/T. Prius...
I received my Tazer Lite and downloaded the update before I installed it in my truck. After the install I changed the tire settings according to the actual weighted height (33.5) of my 35 inch tires. After I changed the settings I did a full reboot. Went for a test drive but my speedometer was still off by 2MPH according to 3rd party GPS apps on my phone. I tried multiple attempts at changing the tire input. After the failed attempts I unmarried the Tazer, did a full reboot, did the sleep cycles, married it back, and changed the tire settings again. Went for another test drive but it's still off by 2MPH.

Can anyone help identify my issue? I'm pretty sure I followed the exact procedures provided by the manual. I did get my steering box replaced and dealer did the software update so I'm thinking this can cause an issue? Prior to the new steering box replacement, I had a local shop update my computer to change the tire settings and my speedometer matched perfectly to the GPS. After the steering box replacement and software update my settings went back to factory.